Mar 29 2014
Week 2 of the renovations has been mainly uneventful, though we have had one or two ups and downs.
On Monday the £1,000 worth of building materials didn't arrive until late in the day, so it was just unloaded and locked away. This meant there was a lot of wasted time during the day, and then on Monday evening Peter suddenly realised the wrong insulation had been delivered.
So the first job on Tuesday was to get it changed, more delay. Then later on the electrician came to start the 'first fix' and to provide us with some power through a temporary socket so we could have a warm drink. It's been very cold.
He seemed to be having difficulties as he couldn't locate the 'earth', (I'm no electrician but I know that's not good news) but in the end he found it, and the subsequent hot drink was very welcome.
Wednesday and the plumber came to size up the job. He announced that we couldn't have the boiler in the eaves as we had planned, it would have to go in the utility room. Not actually a problem in itself, but it meant that we would have to ask National Grid to change the entry site of the gas supply.
Would we need a new survey, would we have to wait another 6 weeks for a date (at the moment we're booked in for April 10th) The idea of having no heat or hot water for even longer was unthinkable.
Fortunately the phone call with the National Grid surveyor who had called went well. He said it was 'no problem' (how I hate that expression) but on this occasion I was prepared to forgive him!
Finally on Friday the wrong size beam was delivered. Would it have to go back on Monday just like the insulation had done earlier in the week? No, they just made the hole bigger!!
Elsewhere, as you can see, the destruction continued.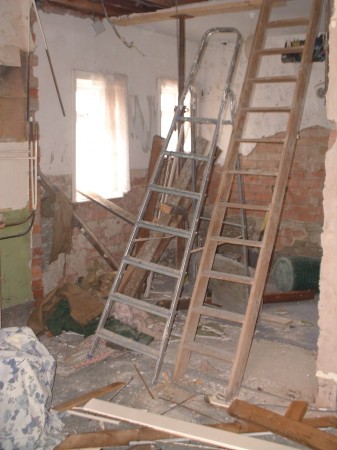 Helped along by a Pot Noodle!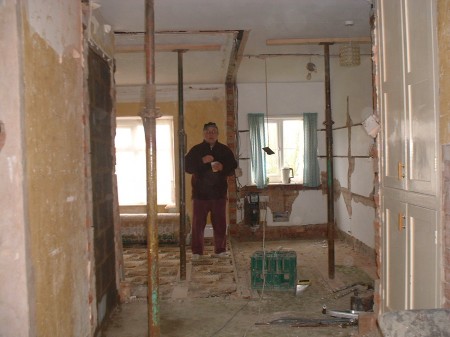 However, the week ended on a high note when the staircase man came to do the final measuring up. He said that for a first attempt at a staircase, Peter's design was 'perfect'.
He's going to be hell to live with this weekend!!
Leave a Reply