Oct 13 2012
Over the last couple of years or so I've written at some length about some of our less successful EBay transactions. Who could forget the curse of the footstools and then earlier this year there was the revenge of the wardrobe.
Then a couple of weeks ago there was the broken lampshade.
I hope you're sitting comfortably as I have another EBay classic to share with you.
Although outwardly I'm a very conventional person, I've always had quite quirky taste, and that's probably why in the early 70's I started to collect old chamber pots.
Not everyone's cup of tea I know, but there are some pretty spectacular ones out there, and they certainly have been a talking point over the years.
However full size 'pos' take up quite a lot of room so in the end my collection stopped at around 27. As I couldn't afford the spectacular ones most of mine were quite basic, but I loved them nevertheless.
Sadly, all things must come to an end and a few months ago I decided to sell some of my least fancy ones, 9 in total.
After some deliberation we decided to put them on EBay as a job lot. Needless to say given the size on the 'lot' and the fact that they could be easily damaged in transit we decided to go for the 'collect in person' option.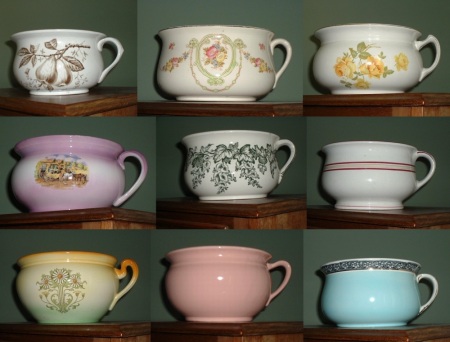 I didn't expect them to fly out of the door, and was very surprised when I quickly got a bid from a chap in York. Not exactly on our doorstep, but about 90 minutes drive.
To cut a long story short he should have looked at his map before placing his bid. He decided 70/80 miles was too far to come and asked to be released from his obligation, which I agreed.
Several weeks passed. Then to my delight another bid was made. My delight soon turned to despair when I realised the winning bidder was based in the Czech Republic!!
To be continued – – – – – Remember?
One Response to "EBay"
Comment by: GrassyBottom.com » Various Stuff
8:45 am, 3 October 2014


[…] If you want to read more about our EBay disasters, click here. […]
Leave a Reply