Apr 12 2014
Week 4 proceeded much as expected, with less 'knocking down' and more 'putting back' than previous weeks, which has to be a good thing, the plasterer is due next week and hopefully the staircase should arrive too.
On Tuesday we had a visit from the plumber 'Stand-up Steve' to work out the BTU's for the central heating. " Have you heard the one about the skeleton who went into a bar and ordered a pint of lager and a mop? " We went home that night feeling like we'd been hit by a train.
However the main event of the week (sorry Steve) was always going to be Thursday when National Grid were due to install the gas supply. We had been waiting patiently for this day since their surveyor had called to arrange things some 6 weeks earlier.
They turned up at 10.15am, but by 11.15am still hadn't started work. Remember when a couple of weeks ago we had to ring the surveyor to notify him of a change to the original siting of the meter and he said there would be 'no problem'?
Well guess what, there was!
The National Grid website is quite specific about where you can have your meter, but at his visit the surveyor said that this was mainly to deter 'numties' who might want something silly. In fact you could have your meter more or less where you wanted, within reason, and he had found both our suggestions perfectly acceptable.
Sadly the operative who arrived on Thursday morning was a 'jobsworth', and didn't see things that way, which is why the first hour was wasted arguing as to which was actually the front of our house!!
After our discussion with the surveyor he had very kindly given us his name and phone number, should his 'no problem' senario fail to materialise, but sadly had omitted to tell us he would be on holiday during the week in question! Consequently he was unable to mediate in Thursday mornings impasse.
Various other people were spoken to, including the operatives direct boss, and finally, I'm not quite sure how, we got him to agree to what we wanted.
When they left in mid-afternoon, the gas supply had got as far as one of the fruit trees in the garden, as you can see here, even though they had already dug a hole where we want the meter next to the house, so why didn't they join them up?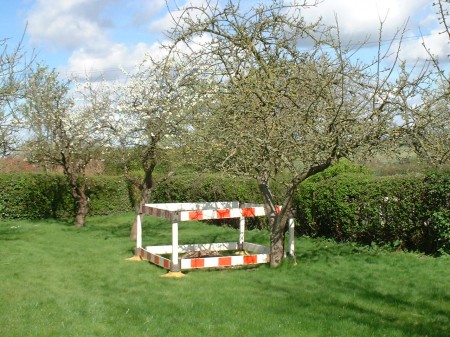 They are due to return next week to complete the remaining few yards up to the house. Though we have since received an e mail from them saying the job is completed, so watch this space!
Meanwhile Peter and I continued to halve the size of the hedge by the drive. Here there is a different view of it from last weeks photo, and you can now see the builders truck parked in the drive, so we must be making progress.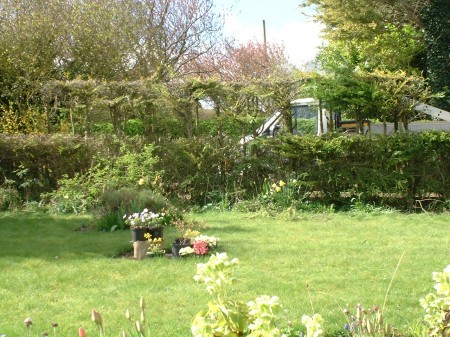 An early finish on Friday meant we could come home and cut the grass at the cottage. Busy, busy.
Leave a Reply