May 3 2014
Week 7 can best be summed up in one word, 'plastering'.
It started well enough with 3 plasterers turning up on Monday but only 2 arrived on Tuesday. They plastered all of the upstairs in these two half days, but no pictures possible because the staircase remains in pieces in one of the front rooms and I'm still a wimp when it comes to ladders.
The whole job was supposed to take them 3 days, but they must have lost interest on Wednesday and Thursday because they didn't show up at all.
This annoyed Adrian no end, as he was forced to do some of the work they should have done. It also annoyed us, as it must have affected the schedule. On the plus side, Adrian, as well as being a good builder, is an excellent plasterer.
Tuesday also saw the arrival of National Grid to fill in the holes in the garden that have been there since April 10th.
We thought getting the gas supply up to the house had been the hard bit, but were soon disabused of that notion after three-quarters of an hour hanging on the phone trying to get a meter installed, (not NPower at fault on this occasion).
As I write, we still don't have a gas meter.
On Friday 2 plasterers reappeared and worked a long day, but haven't quite finished. The mess is horrendous, just when we thought the worst was behind us.
Next week the skirting boards and architraves should be fitted and some floorboards laid where the pantry was. Hopefully the staircase should go in too and maybe some tiling in the 2 bathrooms. Still no sign of the plumber.
The clock is really counting down quickly to the end of May and there are 2 Bank Holidays getting in the way too. Panic is almost setting in.
If I wasn't stressed enough, on Thursday morning we had prospective tenants looking round the cottage, so I had to do some unexpected cleaning. I know I said last week I wanted to get my 'marigolds' on, but that wasn't exactly what I had in mind!
So lets take a relaxing look at the garden, (before we cut the hedge down) at least that's one job off the 'to do' list.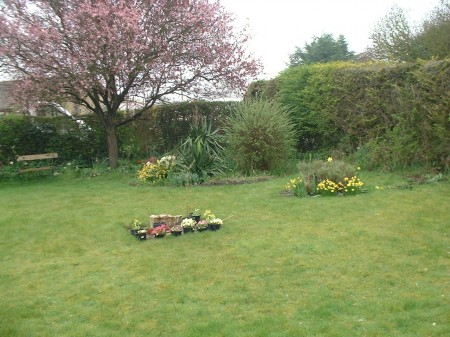 P.S. It's exactly 12 months this weekend since Ravendale House was placed on the market. I must have aged 10 years!!
Leave a Reply