Sep 21 2011
If you ever have a few hours to spare and several hundred pounds to fritter away, why not take a trip to your local garden centre. If it's anything like ours in Brigg, then you will be able to lose yourself in a wonderland of 'stuff'.
I say 'stuff', because it's the only word I can think of that covers the wide range of goods on offer, and I'm not only talking about gardening.
Anything and everything for the discerning home owner and gardener. From the smallest scented candle to the largest planter I have ever seen and all points in between. Or why not get a 3 piece suite for your garden, complete with parasol, or perhaps you'd prefer a jacuzzi. The list is mind bogglingly endless.
That's not the only thing that's mind boggling, you should see some of the prices! Don't get me wrong, given a blank cheque of someone else's money I could spend a fortune in  the blink of an eye, because most of the 'stuff' is absolutely gorgeous, but most of it is also absolutely un-necessary. Blatant consumerism at it's brilliant best.
My favourite section is the garden ornaments. Every conceivable shape, size and design, using every medium known to man and also a few that aren't. I think good garden ornaments can make a garden and here you are truly spoilt for choice, but you need deep pockets.
When I visited the local 'Open Gardens' a few years ago with my gardening chum, one garden stood out for me. It became affectionately known between us as 'No.4' or 'Judith's garden' and the reason I liked it so much was that it was packed with interesting and quirky garden ornaments.
At one time you could pick up quirky and interesting things quite cheaply, but not any more. Salvage yards and junk shops the length and breadth of the country have got wise to the idea that, quirky and interesting = charge what you like as someone will pay the price no matter how ridiculous. Recession, what recession?
So the garden centres and salvage yards have just about got it sewn up between them, which is why our garden is a bit short when it comes to garden ornaments. Anything half decent is too expensive. You could come down the price list a bit but I draw the line at having rampant meerkats in the shrubbery.
However, we do have a couple of things that we're quite fond of. Firstly our bench.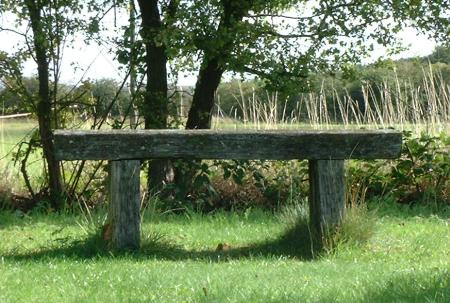 Made from an old railway sleeper cut into 3 sections, it is functional, architectural, and will out live both of us by several hundred years, as it is made of solid mahogany. It cost us about £10, and we sit on it a lot. Moving it across the field and cutting it into pieces with a hand saw was not for the faint hearted.
Then there is our £1 mower.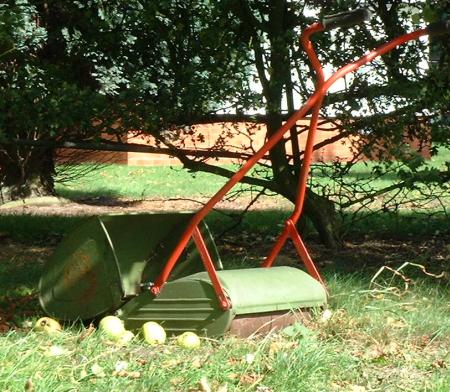 As the name suggests we bought it at a farm auction for £1. It sits beneath the old apple trees and looks as good as anything that a garden centre could provide. It will even cut grass if you have the strength to push it along. Those gardeners of yesteryear must have been made of stern stuff.
It weighs a ton and when we bought it at the sale people looked at us as if we were mad. We tried to slip away quietly but that was impossible given the noise it made being dragged across a concrete farmyard.
Each winter I man-handle it into the conservatory to protect it from the worst of the weather. Well you can't be too careful can you!
Leave a Reply