Dec 3 2010
This seems to be my week for 'firsts' because today I had another one.
We've been snowed in now for several days, the snow is 18″ deep and the novelty is wearing off. I know that in bad weather you have an increased chance of seeing something unusual in your garden, hence the moorhen from earlier in the year, but I didn't expect to see something different so early in the proceedings.
At lunchtime today I saw a bird in the garden that I didn't recognise. In fact when I looked closely there were actually two of them.
A quick look in my bird book told me they were woodcocks, and what a handsome bird they are to be sure. I've never seen one before.
I believe they are quite widely hunted. I cannot for the life in me understand why anyone would want to shoot such a beautiful bird. I feel the same way about pheasants, which are regular winter visitors to the garden. The truth is I just hate killing and hunting anything, full stop.
After lunch we spent an hour shoveling snow. We managed to clear a space between the garage and the house, but trust me when I say we are still days away from getting out.
The drive looks about a mile long. The snow is 18″ deep, the clearance underneath the car is 6″ at best, even if we got to the road, the snow plough has left a 3 foot wall of snow and ice across the entrance.
Neither of us are in the first flush of youth and an hours shovelling might not sound much, but we'd both had enough.
Hey-ho if we're still here on Tuesday it might be beans on toast for tea!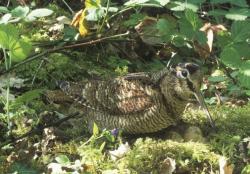 Leave a Reply