Jan 17 2010
We have a new visitor to the garden, in the shape of a moorhen.
He arrived on the 9th of January, and I've seen him every day since. Although we do have a pond, it is very small and overgrown, and I've never seen him anywhere near it.
Instead he seems to prefer the lawn in front of the house, retreating to Flower Bed 3B if he gets startled.
I can watch him through the kitchen window, and he just wanders around amongst the other birds, sharing their food.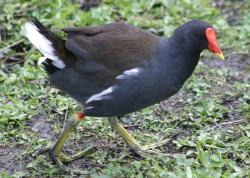 He seems to like seeds, bread and apples. I keep saying 'he', but he could be female, as according to my book the sexes look similar. The most striking thing about him is the size of his feet!
I wonder how long he will stay? Wouldn't it be great if 'he' brought his partner to live in the garden and raise a family. Watch this space.
Leave a Reply