Apr 14 2009
The flowering cherry trees are an absolute picture at this time of year, I'm so glad Peter made us have white ones and not pink. Against a blue sky they are majestic, trouble is the sky isn't blue this year, so I'll just have to use my imagination.
At least it's better than last year when they barely had any flowers on at all. What was that about? Anyway, they've made up for it this year, they're superb.
We bought them, bare rooted, through the post, and they are planted down the side of the vegetable garden. Considering how small they were when they came, they are lovely big trees now.
The euonymous planted in flower beds one and two are looking splendid too. We've got a golden and green one and a cream and green one, I'm afraid I've forgotten their Sunday names, but they really do look good. The gold one next to the pink leaves of the spirea looks particularly striking.
In an attempt to prevent my new weeding technique from failing before it gets started, I re-weeded flower bed one today. Then I moved on to the side of the house where I rarely go. This is where I tried to grow the foxgloves, and to my surprise there are quite a few, also some cowslips which I'dforgotten about. What a lovely surprise.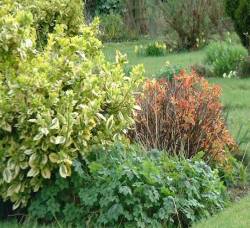 Leave a Reply