Jan 21 2014
Do you remember when there were only 2 TV channels? Now there are more than you can shake a stick at, and most of them show end-to-end rubbish. Thank goodness therefore for 'Coronation Street', the world's longest-running TV soap opera, which started life way back in 1960 and is still going strong.
Now some people can be quite 'sniffy' about 'Corrie', but in truth it is full of quality. Firstly, brilliant acting, let's face it, why else would well regarded actors such as Sir Ian McKellen, Stephanie Cole and Nigel Havers (to name but 3) be queuing up for cameo roles?
Then there are the hilarious 'one-liners' delivered 'dead-pan' and with exquisite timing. It's the only TV programme that actually makes me laugh out loud.
Finally, challenging story lines. Never afraid to tackle difficult issues, in the last couple of years alone we've had surrogacy, bullying, and husband battering.
However the story that gripped us all over the last few weeks has been Hayley Cropper's struggle against terminal illness, a serious subject at the best of times, but with the added complication of her wish to end her own life at a time of her choosing, much to the disapproval of her devoted husband Roy.
Roy and Hayley Cropper have graced our screens for 15 years. An odd couple by most peoples reckoning, but widely loved by those who know them. Roy, a kind man but a social mis-fit, misunderstood by society at large, permanently serious and with a rigid moral compass. Hayley the first transgender character in a TV soap, devoted to him and her close circle of friends.
The danger here would have been for things to get maudlin and over sentimental, but not the Croppers. The script writers have got it spot-on, though I did get slightly worried during the Blackpool episode.
Fortunately it stayed the right side of fanciful and just left us with a warm glow, which as we know didn't last long. I also liked the 2 'Cropper' snowmen in the Xmas episode, a nice touch, typical of 'Corrie'.
Over the years I have watched many TV characters become ill and die, but the story of Roy and Hayley has been something special. It has forced us to consider terminal illness, the right to die, and the effect these things have on others, but above all it has given us a most unlikely love story.
The final 2 episodes were agonising, as Roy struggled to deal with Hayley's imminent suicide. The final scene heartbreaking
Excellent acting by Julie Hesmondhalgh and David Neilson. A sensitive issue dealt with in typical 'Corrie' style.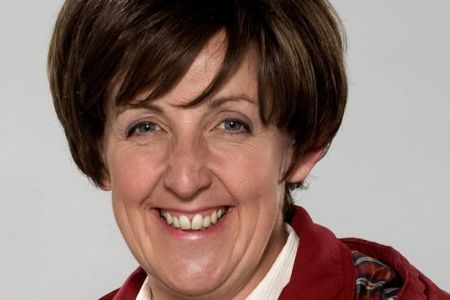 Hayley Cropper, gone but not forgotten.
Leave a Reply