Sep 20 2013
Having owned our own home for 40 years, looking for a place to rent was a bit of an eye opener. Let's just say that what you get for your money is pretty variable and very basic, verging on the squalid. Also we had to make sure Leonard could be accommodated, a lot of places won't allow pets.
Time was not on our side and was passing far too quickly. We were fast running out of options, at this rate we could all be on the street come September 12th.
I think August 27th was probably our lowest day. We'd driven from Barrow upon Humber to North Somercotes and various points in between, nothing was quite right and some were a downright joke, except we weren't laughing anymore.
Everyone had said it could take up to 2 weeks for credit checks to be done and that's about all we had left.
In desperation we agreed to go for a 3 bedroom semi in a nearby village. Even though the rent was more than we really wanted to pay it was the best of a bad bunch and we didn't have the luxury of time to be picky.
We agreed to apply for it on Wednesday the 28th, but before we did we just had one more place to look at which we would pass on the way to the agent.
It was a 3 bedroom cottage which was part of the estate of a local land-owning family. It was old and full of character, big too. Let me put it this way, the sitting room was much bigger than Ravendale House, it had a walk-in pantry bigger than some kitchens I've seen recently plus it had 3 staircases! (There we go, us and staircases again!)
Yes, it was damp in places and certainly needed redecorating and new carpets, but it was basically clean and tidy and the rent was reasonable. We decided then and there it was the one to go for, so left the 3 bed semi on the side of our plate.
It is set in the estates joiners yard, a fact that turned out to be very useful as a future post will explain. I know it won't be everyone's cup of tea, but it's quiet and fairly private and will suit us admirably for 6 months.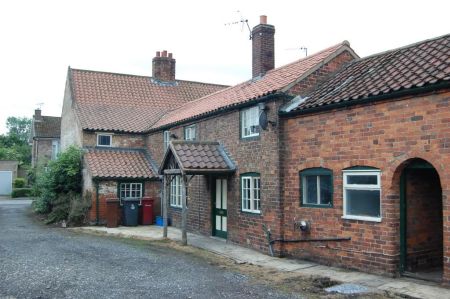 I liked the fact that there were swallows/swifts zooming in and out of the open buildings in the yard. (These actually turned out to be house martins.)
So, the following day we set off to Lincoln to be 'vetted'. I'd been carrying our financial history/ID's etc around in a carrier bag for weeks, so I was quickly able to provide sufficient verification and imagine our delight when we were accepted on the spot, and told we could have the keys the following week to allow time for cleaning, maintenance and chimney sweeping.
At last the pressure was off, I could sleep again, little did I know the really hard work was still to come.
Leave a Reply