Jul 1 2011
Here's a good wheeze which I got from my good gardening chum, Sylvia. Sow dahlia seeds in Spring and treat them as annuals. Pity it's taken me all these years to do it!
I sowed the seeds in mid February and they germinated easily. I'd just bought couple of packets 'off the shelf' at the local supermarket. They were assorted 'Pom Pom' and ' Dwarf Mixed'.
In mid May I nipped out their growing points which, along with regular dead-heading, should ensure a mass of flowers over the next few months
I decided to plant some of the 'dwarf mixed' in pots and have the rest dotted around the garden. Sadly a late frost ruined most of those in the garden. My own fault really, I was so busy covering everything else up that I forgot about them.
The pots were in the conservatory and so survived, and what a splendid pot they make too. I thought I'd lost the heuchera at the front in the harsh winter, but as you can see it has survived and is once more a handsome plant.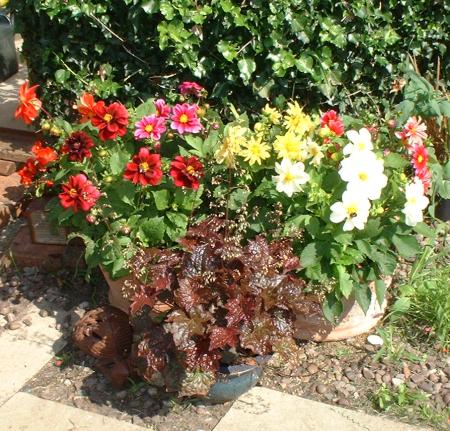 I'm so pleased with the results that I'm going to sow lots more next year and have loads of colourful pots. I intend to bring the pots indoors during winter, but I don't hold out much hope for the ones I leave outside. Sylvia says they can survive if the winter is not too harsh.
Either way I'm really pleased with the results and already looking forward to next year.
Leave a Reply